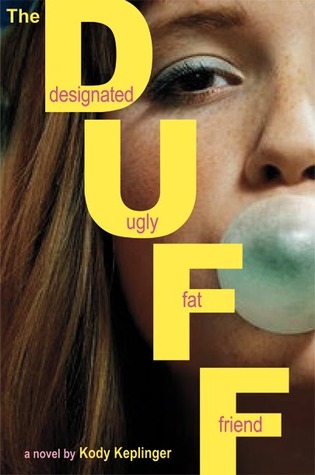 TITLE: The Duff
AUTHOR: Kody Keplinger
PUBLISHER: Poppy
PUBLICATION DATE: 9/7/2010
FORMAT: ebook
PAGES: 270
SOURCE: Bought
MY RATING:
SUMMARY (FROM GOODREADS): Seventeen-year-old Bianca Piper is cynical and loyal, and she doesn't think she's the prettiest of her friends by a long shot. She's also way too smart to fall for the charms of the man-slut and slimy school hottie Wesley Rush. In fact, Bianca hates him. And when he nicknames her "the Duff," she throws her Coke in his face.
But things aren't so great at home right now, and Bianca is desperate for a distraction. She ends up kissing Wesley. Worse, she likes it. Eager for escape, Bianca throws herself into a closeted enemies-with-benefits relationship with him.
Until it all goes horribly awry. It turns out Wesley isn't such a bad listener, and his life is pretty screwed up, too. Suddenly Bianca realizes with absolute horror that she's falling for the guy she thought she hated more than anyone.
OVERALL IMPRESSION: I kept seeing the previews for the Duff movie on tv, so I wanted to read the book before watching the movie. The book is completely different than what I thought it would be. The movie previews make it seem like a light and fluffy comedy kind of movie (I haven't seen the movie yet, so I don't know if that's actually how they made it or not), but the book is actually quite a bit deeper than that. The book deals with some intense issues (body image, divorce, sex). The main theme of this book is body image and how we see ourselves and I feel like that theme was really hit head on in this book.
CHARACTERS: I would have liked a little more character development. I felt like the characters were on the right track, but I wanted a little it more about them. That being said, I really liked Bianca's best friends, Casey and Jessica. They were both really great, genuine friends to Bianca.
COVER: I don't really like the cover. I'm not really sure who the girl on the cover is supposed to be.