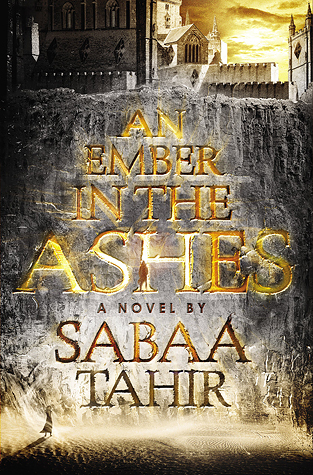 TITLE:
An Ember in the Ashes
AUTHOR:
Sabaa Tahir
PUBLISHER:
Razorbill
PUBLICATION DATE:
4/28/2015
FORMAT:
ARC
PAGES:
464
SOURCE:
Amazon Vine
MY RATING:
BACK COVER SUMMARY:
Laia is a Scholar living under the iron-fisted rule of the Martial Empire. When her brother is arrested for treason, Laia goes undercover as a slave at the empire's greatest military academy in exchange for assistance from rebel Scholars who claim that they will help to save her brother from execution.
Elias is the academy's finest soldier--and secretly, its most unwilling. Elias is considering deserting the military, but before he can, he's ordered to participate in a ruthless contest to choose the next Martial emperor.
When Laia and Elias's paths cross at the academy, they find that their destinies are more intertwined than either could have imagined and that their choices will change the future of the empire itself.
OVERALL IMPRESSION:
I was disappointed in this book. I had heard that a lot of people really liked it, so I was hopeful, but it just wasn't for me. The first chapter of the book was intense, but after that it was slow moving and boring to me. The second half of the book definitely picked up, and I was glad to have continued reading because I did enjoy the second half, I just had to really push myself through the first half. I wasn't a fan of the dual perspective. I get why it's necessary for this book, but I was much more interested in Laia's side of the story and found myself not wanting to read Elias's point of view.
The ending of the book was really intense, but I don't think for me it was enough to make me want to continue with the series. I would say that if you generally like fantasy, then you should give this book a try because you will probably enjoy it.
CHARACTERS:
Like I said before, I was much more interested in Laia's story than in Elias's. I'm not really sure why that is. I like the character of "Cook" and "Kitchen Girl."
COVER:
The cover is alright. I guess it fits in with the story, but it's nothing that blows me away.
**
I received an ARC of this book from Amazon Vine for my honest review. My thoughts are my own and have not been influenced in any way.**