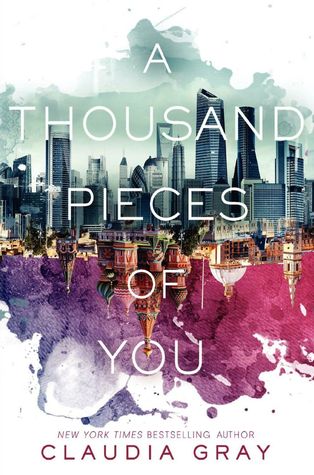 TITLE: A Thousand Pieces of You
AUTHOR: Claudia Gray
PUBLISHER: Harper Teen
PUBLICATION DATE: 11/4/2014
PAGES: 368
FORMAT: ARC
SOURCE: Amazon Vine/Publisher
MY RATING:
BACK COVER SUMMARY: What if the universe is in fact a multiverse? Countless dimensions exist, all layered within one another. Each dimension represents one set of possibilities. Every possibility, every time fate flips a coin, splits the dimensions yet again, creating yet more layers of reality. It goes on forever, to infinity. There are patterns within the dimension. Mathematical parallels. People who have met in one reality will be likely to meet in another. Certain things that happen will happen over and over, in different ways, but more often than you could explain by chance alone. Call it fate.
From New York Times bestselling author Claudia Gray comes a heart-racing, space-and-time-bending new trilogy that asks whether, amid infinite possibilities, one love can endure.
OVERALL IMPRESSION: I'm having a really hard time writing a review for this one. I really love the idea behind the story of there being this infinite amount of parallel dimensions. And I also liked the plot of the story and where that was and continues to go, but for some reason I just wasn't sucked into the book. I found myself relieved when I was done reading because I knew I wouldn't have to pick it up again. That doesn't mean it was bad though, it just wasn't my cup of tea.
CHARACTERS: The characters were okay. I liked Marguerite the most, but I didn't really feel connected to anyone.
COVER: The cover is beautiful. Being totally honest, it's the whole reason I became interested in this book in the first place.
**I received an ARC of this book from Amazon Vine for my honest review.