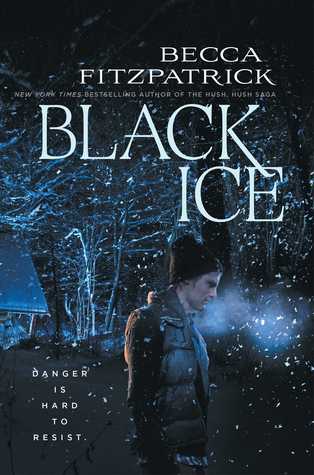 TITLE: Black Ice
AUTHOR: Becca Fitzpatrick
PUBLISHER: Simon & Schuster Books For Young Readers
PUBLICATION DATE: 10/7/2014
FORMAT: Hardcover
PAGES: 392
SOURCE: Amazon Vine
MY RATING:
INSIDE COVER SUMMARY: Britt Pfeiffer has trained to backpack the Teton Range, but she isn't prepared when her ex-boyfriend, who still haunts her every thought, wants to join her. Before Britt can explore her feelings for Calvin, an unexpected blizzard forces her to seek shelter in a remote cabin and accept the hospitality of its two very handsome occupants -- but these men are fugitives, and they take her hostage.
In exchange for her life, Britt agrees to guide the men off the mountain. As they set off, Britt knows she must stay alive long enough for Calvin to find her. Things get even more complicated when Britt finds chilling evidence of a series of murders that took place on that very mountain -- a discovery that may make her the killer's next target.
But nothing is as it seems in the mountains, and everyone is keeping secrets, including Mason, one of her kidnappers. His kindness is confusing Britt. Is he an enemy or an ally?
OVERALL IMPRESSION: This story wasn't what I wanted it to be. I feel like it could have been done a lot better. That being said, I did find myself wanting to keep reading to see what was going to happen next. The premise of the story pulled me in and had me interested, but I was frustrated with how naive the girls were and angry with how easily they trusted complete strangers. The story was dragged out a little bit in parts, but it was suspenseful enough to make me not want to put down the book.
CHARACTERS: Mason made me really angry. I wanted him to hurry up and explain himself. The way the book was going, I knew he was eventually going to explain some things, but he just dragged it out and waited so long. Britt and Korbie make quite a few decisions that don't make sense and are agitating.
COVER: I really like the cover, except for the guy on it. It would have been the perfect cover if it just had the scenery on it.
**I received a finished copy of this book from Amazon Vine for my honest review.**