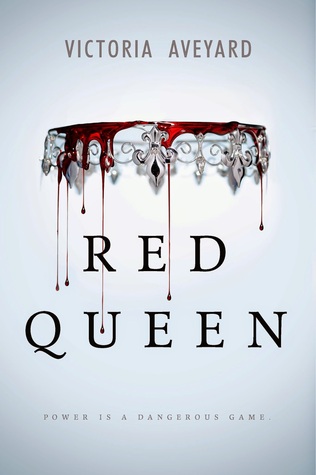 TITLE: Red Queen
AUTHOR: Victoria Aveyard
PUBLISHER: HarperTeen
PUBLICATION DATE: 2/10/2015
FORMAT: Hardcover
PAGES: 383
SOURCE: Bought
INSIDE COVER SUMMARY:
Mare Barrow's world is divided by blood--those with red and those with silver. Mare and her family are lowly reds, destined to serve the Silver elite whose supernatural abilities make them nearly gods. Mare steals what she can to help her family survive, but when her best friend is conscripted into the army she gambles everything to win his freedom. A twist of fate leads her to the royal palace itself, where, in front of the king and all his nobles, she discovers a power of her own--an ability she didn't know she had. Except her blood is Red.
To hide this impossibility, the king forces her into the role of a lost Silver princess and betroths her to one of his own sons. As Mare is drawn further into the Silver world, she risks her new position to aid the Scarlet Guard--the leaders of a Red rebellion. Her actions put into motion a deadly and violent dance, pitting prince against prince--and Mare against her her own heart.
OVERALL IMPRESSION: This book was just phenomenal. After reading it, I felt like my insides were being torn out, but in a good way! There were so many twists and turns. There were a few things that I saw coming, but I was still caught off guard by so many things. While reading the book, it felt like I was watching a movie instead of just reading and I can definitely see this being made into a movie and I really hope that happens. There's so much action and intense moments. The ending was perfect. It sets everything up for the next book and I cannot wait to get my hands on it.
I would say that this book is easily up there on my list of favorite books, and if the rest of the books in the trilogy continue on the same path as Red Blood did, it will probably be my favorite series, second only to Harry Potter.
CHARACTERS: All of the characters in this book were great. There were great characters on the good side and great villains on the bad side. I really liked the main character, Mare. She is very independent and strong. She is a refreshing lead character in that she has a good head on her shoulders and she stands for what she believes in. I really want to learn more about Farley and I'm hoping that we will get a lot more of her in the next book in the series.
COVER: This is one of the best covers I have ever seen. I'm so glad that this amazing book was given such an amazing cover to tie the whole package together. It's just beautiful.