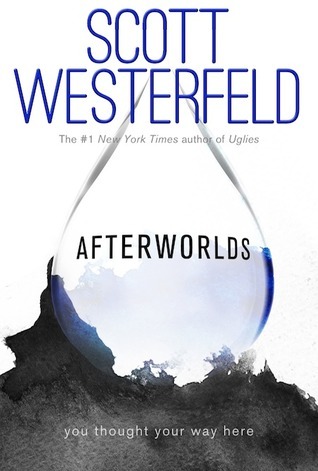 TITLE: Afterworlds
AUTHOR: Scott Westerfeld
PUBLISHER: Simon Pulse
PUBLICATION DATE: 9/23/2014
FORMAT: Hardcover
PAGES: 499
SOURCE: Bought
MY RATING:
SUMMARY (FROM GOODREADS): Darcy Patel has put college and everything else on hold to publish her teen novel, Afterworlds. Arriving in New York with no apartment or friends she wonders whether she's made the right decision until she falls in with a crowd of other seasoned and fledgling writers who take her under their wings...

Told in alternating chapters is Darcy's novel, a suspenseful thriller about Lizzie, a teen to slips into the 'Afterworld' to survive a terrorist attack. But the Afterworld is a place between the living and the dead and as Lizzie drifts between our world and that of the Afterworld, she discovers that many unsolved - and terrifying - stories need to be reconciled. And when a new threat resurfaces, Lizzie learns her special gifts may not be enough to protect those she loves and cares about most.

OVERALL IMPRESSION: Basically, this book is about a girl named Darcy who is writing a novel. We get to see what is happening with her life and her writing career. Every other chapter lets us read a chapter of the book that Darcy is writing.

I've never read any other books like this. You're basically reading two books at the same time. I really enjoyed the story that Darcy was writing. It was really exciting and gripping. But at the same time, I was really interested in Darcy's journey. I liked getting a glimpse into a writer's side of life. When I got into each part, I didn't want to leave it to go back to the other, but I'd soon be sucked into that part and not want to leave.

I loved all of the BEA references. After hearing so much about BEA from fellow book bloggers, so it was neat to see it from the perspective of an author.

I also really enjoyed the ending of both the novel and Darcy's book.
CHARACTERS: Darcy was a great main character. Yes, she is an author, but she's also just a teenager herself and she acts like a teenager. She does make some unwise decisions, but nothing that she can't come back from and I feel like her decisions are those that a typical teenager would make.
COVER: The cover is pretty neat. I feel like they could have done more to tie it into the story, but I do like it.