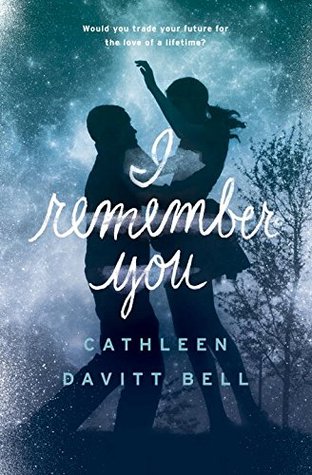 TITLE: I Remember You
AUTHOR: Cathleen Davitt Bell
PUBLISHER: Alfred A. Knopf Books for Young Readers
PUBLICATION DATE: 2/10/2015
FORMAT: ARC
PAGES: 320
SOURCE: Amazon Vine
MY RATING:
BACK COVER SUMMARY: Seventeen-year-old Lucas is a star hockey player who's headed for the marines as soon as high school is over. Then there's Juliet, straight-A student and rigorous debater, whose college trajectory has been carefully planned for year. They couldn't be more different. But from the moment Lucas sees Juliet, he swears he remembers their first kiss. Their first dance. Their first fight. In fact, Lucas knows everything that's going to happen between them--not because he can predict the future, but because he claims to have already lived it.
Juliet doesn't know whether to be afraid for herself--or for Lucas. Because as Lucas's memories occur more frequently, they also grow more ominous. All Juliet wants is for Lucas to be safe with her in the present. But how do you hold on to someone you love now when they've begun slipping away from you in the future?
OVERALL IMPRESSION: From the moment I picked up this book and started reading, I was intrigued and had a hard time putting it down. I was completely sucked into the story and wanted to know what was going to happen next. I couldn't read it fast enough. As I started to actually understand what was I happening, I feel like it slowed down slightly, but only for a very small portion of the book. I was wondering what was going to happen at the end, and I was pleased with the way it turned out.
CHARACTERS: I liked both Juliet and Lucas. I felt they were good together and had great chemistry.
I did not like Juliet's best friend, Rosemary. I felt like she was acting the way that she thought she was supposed to act in order to be popular, like she was putting on a show.
COVER: This cover is one of my favorites of all time. It is gorgeous! I love the color scheme and the title font is perfect.
**I received an ARC of this book from Amazon Vine for my honest review.