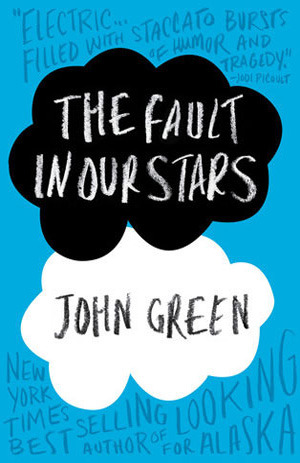 TITLE: The Fault in Our Stars
AUTHOR: John Green
PUBLISHER: Dutton Books
PUBLICATION DATE: 1/10/2012
PAGES: 318
MY RATING:
INSIDE COVER SUMMARY: Despite the tumor-shrinking medical miracle that has brought her a few years, Hazel has never been anything but terminal, her final chapter inscribed upon diagnosis. But when a gorgeous plot twist named Augustus Waters suddenly appears at Cancer Kid Support Group, Hazel's story is about to be completely rewritten.
OVERALL IMPRESSION: I have been wanting to read this book for a really long time. This is my first John Green book, and now I want to read all of his books. I was competely sucked in from the very first line. I love the writing style and the voice.
I enjoyed the story line of this book so much. The pacing of the story was perfect. I love how the events unfolded, particularly the part of the story that has to do with Hazel's favorite book.
CHARACTERS: The character development throughout this book was great. I felt like I knew each of the characters personally. Hazel and Gus just fit together perfectly. Isaac was a great character as well.
COVER: I am obsessed with the cover. The colors are gorgeous and I love how it looks like a chalkboard.