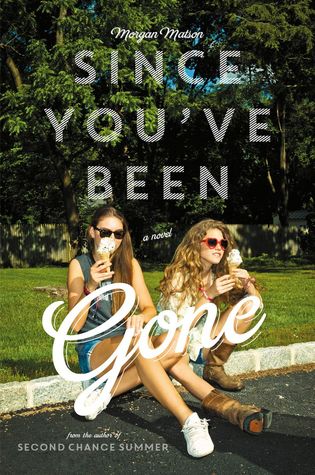 TITLE: Since You've Been Gone
AUTHOR: Morgan Matson
PUBLISHER: Simon and Schuster Books For Young Readers
PUBLICATION DATE: 5/6/2014
PAGES: 464
BACK COVER SUMMARY: It was Sloane who yanked Emily out of her shell and made life 100% more interesting. But right before what should have been the most epic summer, Sloane just...disappears. All she leaves behind is a to-do list. On it, thirteen Sloan-inspired tasks that Emily would normally never try. But what if they could bring her best friend back?

Emily now has this unexpected summer, and the help of Frank Porter (totally unexpected) to check things off Sloane's list. Who knows what she'll find.
OVERALL IMPRESSION: This was a really cute, fun summer read. It is the perfect contemporary book to read to make you feel great. It is a rather large book, but it doesn't feel that way when you are reading. This is a sweet story about coming out of your shell and expanding your comfort zone to do things that are good for you and help develop you as a person.
CHARACTERS: I really enjoyed watching Emily grow over the course of the story. She is just a great character and is able to come out of her comfort zone and realize that she can enjoy life just by pushing herself a little bit. I also really liked the group of friends that Emily makes during her summer adventures. Frank, Collins and particularly Dawn seem to be really good for Emily.
COVER: I really like the cover. It makes me want to go out and get an ice cream cone and have a summer adventure of my own.
**I received an ARC of this book from Amazon Vine for my honest review.