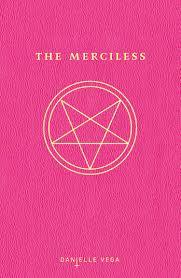 TITLE:
The Merciless
AUTHOR:
Danielle Vega
PUBLISHER:
Razorbill
PUBLICATION DATE:
June 12, 2014
FORMAT:
Hardcover
PAGES:
279
SOURCE:
Bought
MY RATING:
SUMMARY (FROM GOODREADS):
Brooklyn Stevens sits in a pool of her own blood, tied up and gagged. No one outside of these dank basement walls knows she's here. No one can hear her scream.
Sofia Flores knows she shouldn't have gotten involved. When she befriended Riley, Grace, and Alexis on her first day at school, she admired them, with their perfect hair and their good-girl ways. They said they wanted to save Brooklyn. They wanted to help her. Sofia didn't realize they believed Brooklyn was possessed.
Now, Riley and the girls are performing an exorcism on Brooklyn--but their idea of an exorcism is closer to torture than salvation. All Sofia wants is to get out of this house. But there is no way out. Sofia can't go against the other girls...unless she wants to be next...
OVERALL IMPRESSION:
So, this is what I wrote right after I finished reading the book: I don't know what to say about this book. I want to say that I didn't like it, but I can't give it a bad rating because it affected me so much. It was creepy, scary, gross and disturbing. I am regretting reading it so close to bedtime. Good job Danielle, you set out to write a scary book and you accomplished your goal.
After having some time to digest my thoughts, I still pretty much feel the same way. I absolutely hate scary movies. I will not watch them. One of my least favorite things is when I go to the movies and a preview for a scary movie comes on. I have to plug my ears and look at the floor, I can't handle it. But when it comes to reading, I love to read scary books. I had heard this was a scary book, but I thought, it's YA so how scary can it really be? Yep, it was terrifying.
The book actually took me some time to get into. I would say it didn't really start affecting me until around page 90. That's when it took off and got crazy. And it just got more and more intense as it went on. If you are looking for a book to creep you out, definitely pick this one up.
CHARACTERS:
I feel like the characters weren't developed fully. I cared what was happening to them and what they were doing, but at the same time, I didn't really feel connected to them. I think it was more of the shock factor of the events in the story that made me care what happened, not that I actually cared about the characters themselves.
COVER:
This cover is amazing. There's no dust jacket on the book, which is pretty unique. And the hot pink color gives off the opposite vibe of the story. I love it.