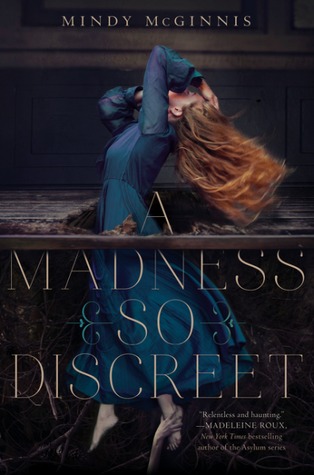 TITLE:
A Madness So Discreet
AUTHOR:
Mindy McGinnis
PUBLISHER:
Katherine Tegen Books
PUBLICATION DATE:
10/6/2015
FORMAT:
Hardcover
PAGES:
384
SOURCE:
Bought
MY RATING:
SUMMARY (FROM GOODREADS): She keeps it locked away, along with her voice, trapped deep inside a brilliant mind that cannot forget horrific family secrets. Those secrets, along with the bulge in her belly, land her in a Boston insane asylum.
When her voice returns in a burst of violence, Grace is banished to the dark cellars, where her mind is discovered by a visiting doctor who dabbles in the new study of criminal psychology. With her keen eyes and sharp memory, Grace will make the perfect assistant at crime scenes. Escaping from Boston to the safety of an ethical Ohio asylum, Grace finds friendship and hope, hints of a life she should have had. But gruesome nights bring Grace and the doctor into the circle of a killer who stalks young women. Grace, continuing to operate under the cloak of madness, must hunt a murderer while she confronts the demons in her own past.
MY THOUGHTS: I was super excited to see this book in one of my monthly subscription boxes from Owl Crate. I do admit that I was expecting to find this book extremely creepy and spooky, which it was not, but I still really enjoyed it. It took me a little bit to get used to the dialog because some of the language sounded like something you'd hear in the past, but that added to the story because this book takes place in the past.
The first part of the book did a great job at pulling me in and making me want to keep reading to find out what was going on and what was going to happen next. The middle of the book slowed down a little bit, but I still enjoyed following Grace, the main character, around trying to figure out the mysteries.
I really loved the characters in this book, especially the other girls that were in the insane asylum. They just had so much personality, and even though they were in an institution, they were still just girls being girls and having fun.