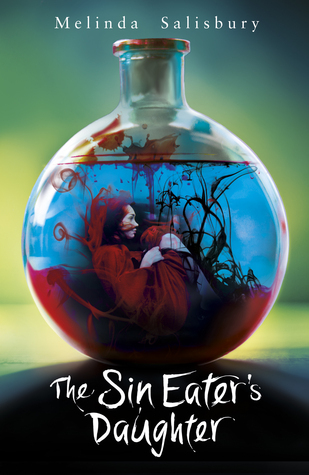 TITLE:
The Sin Eater's Daughter
AUTHOR:
Melinda Salisbury
PUBLISHER:
Scholastic Press
PUBLICATION DATE:
2/25/2015
FORMAT:
ARC
PAGES:
320
SOURCE:
Amazon Vine
MY RATING:
INSIDE COVER SUMMARY:
Seventeen-year-old Twylla lives in the castle. But although she's engaged to the prince, none of the lords or ladies ever speak to her. Because Twylla isn't exactly a member of the court.
She's the executioner.
As the Goddess embodied, Twylla instantly kills anyone she touches. Each week, she's taken to the prison and forced to lay her hands on those accused of treason. No one will ever love a girl with murder in her veins. Even the prince, whose royal blood supposedly makes him immune to Twylla's touch, avoids her company.
But then a new guard arrives, a boy whose easy smile belies his deadly swordsmanship. And unlike the others, he's able to look past Twylla's executioner robes and see the girl, not the Goddess. Yet, Twylla's been promised to the prince and knows far too well what happens to people who cross the queen.
However, a treasonous secret is the last of Twylla's problems. The queen has a plan to destroy her enemies--a plan that requires a stomach-churning, unthinkable sacrifice. Will Twylla do what it takes to protect her kingdom? Or will she abandon her duty in favor of a doomed love?
OVERALL IMPRESSION:
I wanted to like this book so bad. It started out and I was a little confused by all of the strange character names and kingdom names, but I figured I was adjust to it. I'm not much of a fantasy reader and I sometimes have trouble with fantasy books because of the strange names and overly descriptive passages. I did adjust a little bit, but it was still a little difficult for me not to zone out when the passages were describing some of the gods.
In my opinion, this book was so boring. Nothing was happening. I had heard that there were people who loved this book, so I kept pushing myself to read on telling myself that it must get better if so many people like it. The plot started to pick up (sort of) about 2/3rds of the way through the book, but even then it was slow moving. There were some twists with the plot and we learn things that, at least for me, didn't even cross my mind as a possibility, but I was still pretty bored with this book. I need more things to happen and more action.
CHARACTERS:
I had a hard time connecting to the characters. Maybe it was because I was so bored with this story line that I just didn't pay attention to the characters, but they just fell flat for me. I feel like I didn't really know anything about anyone.
COVER:
The cover of the book is so beautiful. It's part of the reason why I pushed myself to keep reading. I figured if a book could have this pretty of a cover, it has to be good, but unfortunately that wasn't the case for me.
**
I received an ARC of this book from Amazon Vine for my honest review**