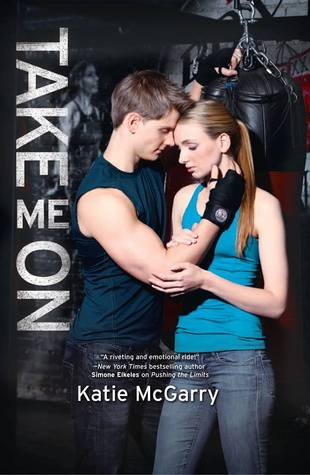 TITLE: Take Me On
AUTHOR: Katie McGarry
PUBLISHER: Harlequin Teen
PUBLICATION DATE: 5/27/2014
PAGES: 544
MY RATING:
INSIDE COVER SUMMARY: Champion kickboxer Haley swore she'd never set foot in the ring again after one tragic night. But then the guy she can't stop thinking about accepts a mixed martial arts fight in her honor. Suddenly, Haley has to train West Young. All attitude, West is everything Haley promised herself she'd stay away from. Yet he won't last five seconds in the ring without her help.
West is keeping a big secret from Haley. About who he really is. But helping her--fighting for her--is a shot at redemption. Especially since it's his fault his family is falling apart. He can't change the past, but maybe he can change Haley's future.
Haley and West have agreed to keep their relationship strictly in the ring. But as an unexpected bond forms between them and attraction mocks their best intentions, they'll face their darkest fears and discover love is worth fighting for.
OVERALL IMPRESSION: Another instant hit from Katie. I don't think this woman could write a bad book if she tried. I will read anything by her. I was in love with this book before I was even halfway through it. Katie's writing just pulls you in and makes you keep flipping the pages. I will admit that I didn't like this one as much as her other books, but it was still extremely good.
CHARACTERS: I think my reason for not liking this book as much as the others is because of the main characters, Haley and West. For some reason, I just didn't connect with them as well as I would have liked to. It might have been because the story line revolved around boxing, and I have zero interest in that, but I did really love the relationship that West and Haley shared.
COVER: I'm not a fan of any of the covers for the Pushing The Limits books, but I do like that there is something printed directly onto the book underneath the dust jacket.
**I received a finished copy of this book from Amazon Vine for my honest review.