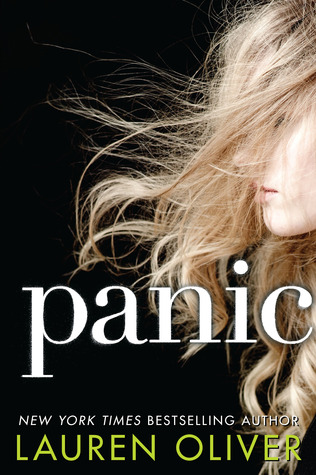 TITLE: Panic
AUTHOR: Lauren Oliver
PUBLISHER: Harper Collins
PUBLICATION DATE: 3/4/2014
PAGES: 416
MY RATING:
BACK COVER SUMMARY: Panic began as so many things do in Carp, a poor town of twelve thousand people in the middle of nowhere: because it was summer, and there was nothing else to do.
Heather never thought she would compete in Panic, a legendary game played by graduating seniors, where the stakes are high and the payoff is even higher. She'd never thought of herself as fearless, the kind of person who would fight to stand out. But when she finds something, and someone, to fight for, she will discover that she is braver than she ever thought.
Dodge has never been afraid of Panic. His secret will fuel him, and get him all the way through the game; he's sure of it. But what he doesn't know is that he's not the only one with a secret. Everyone has something to play for.
For Heather and Dodge, the game will bring new alliances, unexpected revelations, and the possibility of her first love for each of them--and the knowledge that sometimes the very things we fear are those we need the most.
OVERALL IMPRESSION: I liked the sweet note from Lauren at the beginning of the book. I'm not sure if this is in all copies since I read from an ARC, but it was nice of her to include it.
There has been a lot of hype over this book, but I just don't get it. The book was fine, but it wasn't near one of my favorites. I'm not sure what everyone was raving about. That being said, I did like the concept and I enjoyed reading it.
CHARACTERS: There were a lot of names being thrown around right from the start, so I was having some trouble figuring out who everyone was and keeping everyone straight. It got a little easier, but I did still have some difficulty throughout the book. I had some trouble connecting with the characters. I wanted to care more about them, but I just couldn't. I was more interested in the Panic games themselves than the relationships between the characters.
COVER: I like the cover. I like the simplicity of it. I'm a fan of dark covers with a pop of something on them and this has that.
**I received an ARC of this book from Amazon Vine for my honest review.