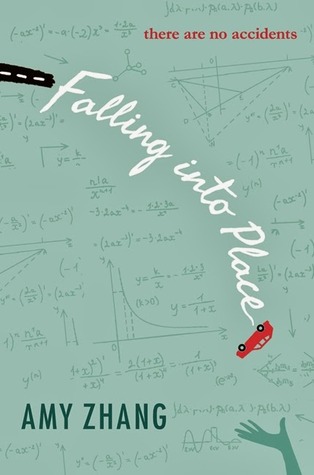 TITLE: Falling Into Place
AUTHOR: Amy Zhang
PUBLISHER: Greenwillow Books
PUBLICATION DATE: 9/9/2014
PAGES: 304
**I received an ARC of this book from Amazon Vine for my honest review.
BACK COVER SUMMARY: Why did Liz Emerson decide that the world would be better off without her? Why did she give up? Vividly told by an unexpected narrator, the heartbreaking and nonlinear novel pieces together the short and devastating life of Meridian High's most popular junior girl. How do we impact one another? How do our actions reverberate? What does it mean to love someone? To be a friend? To be a daughter? Or a mother? Is life truly more than cause and effect? Amy Zhang's haunting and universal story will appeal to fans of Lauren Oliver, Gayle Forman, and Jay Asher.
OVERALL IMPRESSION: Very early on, I could tell that this was going to be one of those books that was going to break my heart. It definitely delivered. It was so heart wrenching and raw and I was sucked in to the whole thing. As the story goes on, you delve deeper and deeper into Liz's feelings and emotions. It just kept getting sadder and sadder. I felt so bad for Liz and I wanted to help her.
I love the timeline of the story. It doesn't follow a set path and jumps around in the past and the present, but it wasn't hard to follow at all.
CHARACTERS: I have a love hate with a lot of the characters in this book. There are so many characters that I just don't like in the beginning. As the story goes on, we learn more about them and start to have more of an understanding of them. Some of them grow on me a little bit and others I end up hating just as much as I did in the beginning.
COVER: 3/5. The cover is okay. It completely relates to the story and I like the way they did the title.