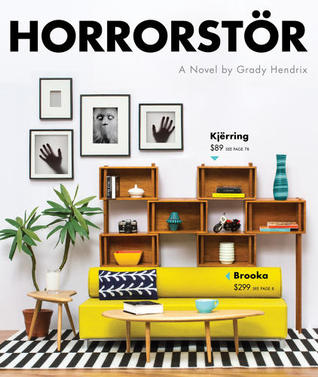 TITLE: Horrorstor
AUTHOR: Grady Hendrix
PUBLISHER: Quirk Books
PUBLICATION DATE: 9/23/2014
PAGES: 256
FORMAT: eARC
SOURCE: Netgalley
MY RATING:
SUMMARY (FROM GOODREADS): Something strange is happening at the Orsk furniture superstore in Cleveland, Ohio. Every morning, employees arrive to find broken Kjerring bookshelves, shattered Glans water goblets, and smashed Liripip wardrobes. Sales are down, security cameras reveal nothing, and store managers are panicking.
To unravel the mystery, three employees volunteer to work a nine-hour, dusk-til-dawn shift. In the dead of the night, they'll patrol the empty showroom floor, investigate strange sights and sounds, and encounter horrors that defy the imagination.
OVERALL IMPRESSION: I love the idea of this book. I am obsessed with IKEA and they did such a good job making this book look exactly like an IKEA catalog. This book was terrifying. About halfway through the book, I started getting so scared that I had to limit my reading to where I would only read early in the day and only a few chapters at a time. I loved the whole reading experience. My only problem is that I think I would have enjoyed this book more as a physical copy to complete the whole "catalog" feel.
CHARACTERS: I feel like the development of these characters was done very well. I definitely learned more about each of them as the story progressed and even changed my opinions on a few of them before it was over.
COVER:
They did such a great job with this cover. It's so incredibly creepy, but it takes you a minute to actually see that's it's creepy.
**I received an advanced reader's copy in the form of an e-book of this title from Netgalley for my honest review.**