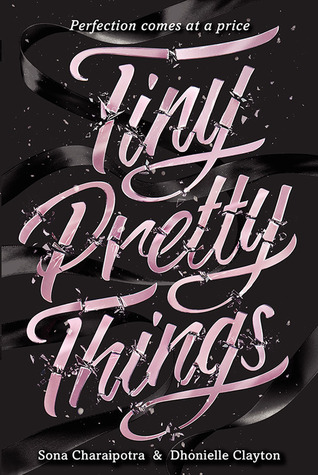 TITLE:
Tiny Pretty Things
AUTHOR:
Sona Charaipotra & Dhonielle Clayton
PUBLISHER:
Harper Teen
PUBLICATION DATE:
5/26/2015
FORMAT:
ARC
PAGES:
448
SOURCE:
Amazon Vine
MY RATING:
COYER SCAVENGER HUNT #22: READ A BOOK WHERE DANCE IS PROMINENTLY FEATURED - 2 POINTS
BACK COVER SUMMARY:
There can only be one prima ballerina. No knows that better than Gigi, Bette, and June, three students vying to be the next star at Manhattan's most elite ballet academy. Free-spirited new girl Gigi just wants to dance--but the very act might kill her. Privileged New Yorker Bette's desire to escape the shadow of her ballet star sister brings out a dangerous edge in her. And perfectionist June needs to land a lead role this year, or her controlling mother will put an end to her dancing dreams forever. In a world where every dancer is both friend and foe, Gigi, Bette, and June will sacrifice, manipulate, and backstab to be the best of the best.
Black Swan
meets
Pretty Little Liars
in this soapy drama from CAKE Literary, a new packager dedicated to bringing diversity to YA books. With gossip, lies, and scandal,
Tiny Pretty Things
is a riveting read about three not-so-perfect ballerinas who will do anything to get on top.
OVERALL IMPRESSION:
I was pretty disappointed in this book. From reading the description, I expected this book to be filled with juicy drama, mystery and nonstop twists and turns. But to me, it read more like a contemporary with a hint of mystery. It's a pretty slow read. The last 50-75 pages does pick up a little bit, but this is a pretty chunky book, so most of it is slow.
I didn't really like the ending. This book just wasn't for me. If you're a fan of contemporaries, but are looking for something that isn't a fluffy, light contemporary, this might be something to pick up. It just wasn't for me.
CHARACTERS:
I had trouble keeping up with the characters. The book is told through three different perspectives, but there are a LOT of characters in this book and I tend to struggle with books that have a lot of different perspectives.
I did like June and was excited to discover more about her and her story, so that's probably what pushed me to keep reading this book.
COVER:
The cover of this book is so pretty! I love the black background with the purple writing and the ribbon weaved through. It fits with the plot of the story for sure.
**I received an ARC of this book from Amazon Vine and the publisher for my honest review. All thoughts are my own and have not been influenced in any way.**