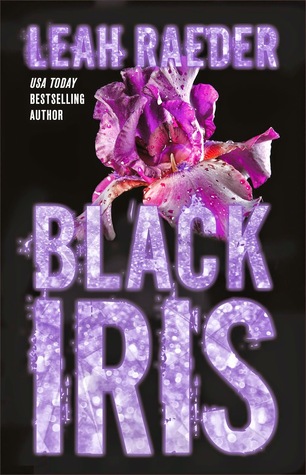 TITLE:
Black Iris
AUTHOR:
Leah Raeder
PUBLISHER:
Atria
PUBLICATION DATE:
4/28/2015
FORMAT:
eARC
PAGES:
320
SOURCE:
Netgally
MY RATING:
COYER SCAVENGER HUNT #34: READ A BOOK WITH BLACK IN THE TITLE: 3 POINTS
SUMMARY (FROM GOODREADS):
It only took one moment of weakness for Laney Keating's world to fall apart. One stupid gesture for a hopeless crush. Then the rumors began. Slut, they called her. Queer. Psycho. Mentally ill, messed up, so messed up even her own mother decided she wasn't worth sticking around for.
If Laney could erase that whole year, she would. College is her chance to start with a clean slate.
She's not looking for new friends, but they find her: charming, handsome Armin, the only guy patient enough to work through her thorny defenses--and fiery, filterless Blythe, the bad girl and partner in crim who has thorns of her own.
But Laney knows nothing good ever lasts. When a ghost from her past resurfaces--the bully who brok her down completely--she decides it's time to live up to her own legend. And Armin and Blythe are going to help.
Which was the plan all along.
Because the rumors are true. Every single one. And Laney is going to show them just how true.
She's going to show them all.
OVERALL IMPRESSION:
Wow. First off, I rated this book more of a 3.75, but just went ahead and rounded up to 4 because just wow. It's really hard to say a lot about this book. I don't want to spoil anything and I'm also kind of in awe. There was so much in this book. I feel like I don't even know what just happened to my brain after finishing this.
This book pulled me in. It's very intense. There is a lot of strong language, violence, drugs and alcohol use and a whole lot of graphic sex scenes. If those things are not for you, then you should take a pass on this book. But if you are okay with those, then this book is definitely worth reading. This book was filled with drama, backstabbing, lying, cheating, deceit and more. It was a roller coaster ride the whole way through.
This book jumps around quite a bit on the timeline and I found myself really confused as I was reading as to when the events were happening, but I made myself push on. In the end everything came together and I was able to piece it all in my head without a ton of brain power.
CHARACTERS:
Again, I don't want to give away any spoilers so I'm not really going to go into much about the characters. I really like the name Blythe, I think it's really unique. Other than that, all I have to say is some of these characters are ruthless.
COVER:
This cover is stunning! So simple and just beautiful.
**I received an ARC of this book from Netgalley the publisher for my honest review. My opinion has not been influenced in any way.**