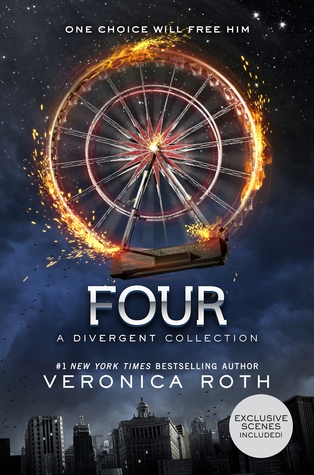 TITLE: Four
AUTHOR: Veronica Roth
PUBLISHER: Katherine Tegen Books
PUBLICATION DATE: 7/8/2014
PAGES: 285
INSIDE COVER SUMMARY: Two years before Beatrice Prior made her choice, the sixteen-year-old son of Abnegation's faction leader did the same. Tobias's transfer to Dauntless is a chance to begin again. Here, he will not be called the name his parents gave him. Here, he will not let fear turn him into a cowering child.
Newly christened "Four," he discovers during initiation that he will succeed in Dauntless. Initiation is only the beginning, though; Four must claim his place in the Dauntless hierarchy. His decisions will affect future initiates as well as uncover secrets that could threaten his own future--and the future of the entire faction system.
Two years later, Four is poised to take action, but the course is still unclear. The first new initiate who jumps into the net might change all that. With her, the way to righting their world might become clear. With her, it might become possible to be Tobias once again.
OVERALL IMPRESSION: This book was great. I loved seeing Four's perspective on things and getting a glimpse inside his head. I've never really understood when people claim to have "book boyfriends" but Four's character made me come really close to understanding the meaning of it, he is by far my favorite male love-interest that I've ever read about, and that was after having read just the Divergent series. This collection of stories made me love him even more. I loved getting the inside look at his life and how he turned into the Dauntless member we met in Divergent.
CHARACTERS: I've already pretty much covered this. I loved the character of Four and I'm glad to have more of an understand of what makes him the way he is.
COVER: 5/5. I love this cover so much! It is super shiny and eye catching. I love that it ties into the rest of the Divergent series.