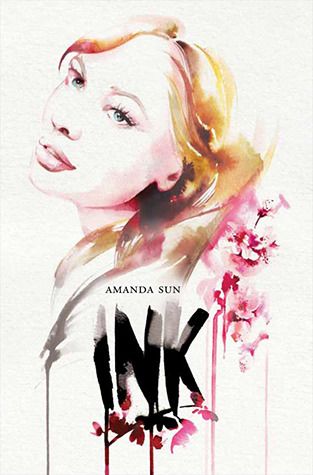 Amazon
TITLE:
Ink
AUTHOR:
Amanda Sun
ILLUSTRATORS:
Petra Dufkova (cover), Ross Siu (interior)
PUBLISHER:
Harlequin Teen
PUBLICATION DATE:
6/25/2013
PAGES:
326
MY RATING:
INSIDE COVER SUMMARY: On the heels of a family tragedy, Katie Greene must move halfway across the world. Stuck with her aunt in Shizuoka, Japan, Katie feels lost. Alone. She doesn't know the language, she can barely hold a pair of chopsticks and she can't seem to get the hang of taking her shoes off whenever she enters a building.
When Katie meets aloof but gorgeous Tomohiro, the star of the school's kendo team, she is intrigued by him...and a little scared. His tough attitude seems meant to keep her at a distance, and when they're near each other, strange things happen. Pens explode. Ink drips from nowhere. And unless Katie is seeing things, drawings come to life.
Somehow Tomo is connected to the kami, powerful ancient beings who once ruled Japan--and as feelings develop between Katie and Tomo, things begin to spiral out of control. The wrong people are starting to ask questions, and if they discover the truth, no one will be safe.
OVERALL IMPRESSION: I had some trouble connecting with/concentrating on the story because of the Japanese words mixed in. There's a glossary at the back of the book which helps, but it's a little annoying having to flip to the back and search for the word every couple of pages -- I would have loved to see footnotes instead, because I really did enjoy seeing the Japanese words - they added to the authenticity of the story/setting.

A little less than halfway through, the book really picks up speed and got me extremely interested.

I liked the ending of the book. It set us up for the next book in the series, but made me feel good about the ending at the same time.
CHARACTERS: Yuki (a friend of the main character) seems like a really good friend, but I don't really know much about her. I'd really like to learn more about Jun and find out what his plans are.
**I received a copy of this book from Amazon Vine for my honest review.