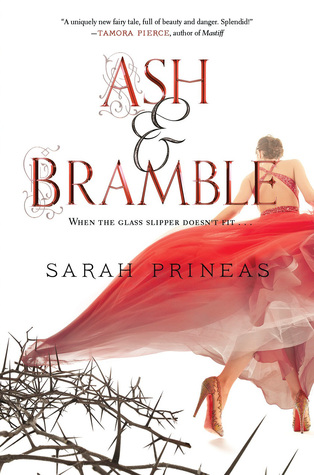 TITLE:
Ash & Bramble
AUTHOR:
Sarah Prineas
PUBLISHER:
Harper Teen
PUBLICATION DATE:
9/15/2015
FORMAT:
ARC
PAGES:
464
SOURCE:
For Review
MY RATING:
BACK COVER SUMMARY:
Pin has no recollection of who she is or how she got to the Godmother's fortress. She only knows that she is a Seamstress, spending day after day making ballgowns fit for fairy tales. Pin feels there's more than what's inside these cold, stone walls and escapes with the handsome young Shoemaker.
But Pin discovers that what seems like freedom is a prison of another kind, one that entangles Pin in a story that leads to a prince, a kiss, and a clock striking midnight. To unravel herself from this new life, Pin must choose between her prince and another--the one who would give his life for her. Torn, the only thing for her to do is trade in the glass slipper for a sword and find her own destiny.
The tale has been told and retold, twisted and tweaked, snipped and stitched, but now discover the true story of
Cinderella
in Sara Prineas's bold, romantic, and utterly original young adult debut.
OVERALL IMPRESSION:
I've always loved retellings, so I was pretty excited going into this book. This was definitely an interesting take on the classic story and I really enjoyed it. The introduction was brilliant. I felt like the narrator was talking directly to me. There was a point in the book about a third of the way in that was really strange and I was worried the book was going to get weird, but it only lasted a couple of pages and then it was over.
The ending was great. There was a good build up and plenty of action. I also really liked the way the story was wrapped up. There was a point where it could have been turned into a series, but in the end everything was wrapped up and I'm glad that this is a standalone.
CHARACTERS:
I liked both the main characters, Pin and Shoe. They had a fun chemistry together. I also liked the shoemaker and his wife. I wish we had been able to learn more about the side characters as there were so many that seemed interesting, but I didn't really know much about (Dulcet, Precious, Spinner).
COVER:
I am obsessed with this cover. It is gorgeous and it ties in perfectly with the story.