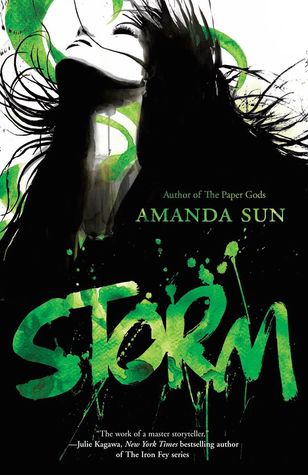 TITLE:
Storm
SERIES:
Paper Gods #3
AUTHOR:
Amanda Sun
PUBLISHER:
Harlequin Teen
PUBLICATION DATE:
6/30/2015
FORMAT:
Paperback
PAGES:
287
SOURCE:
Amazon Vine
MY RATING:
COYER SCAVENGER HUNT #74: READ THE LAST BOOK IN A SERIES - 5 POINTS.
INSIDE COVER SUMMARY:
After almost a year in Japan, Katie Greene has finally unearthed the terrible secret behind her boyfriend Tomohiro's deadly ability to bring drawings to life--not only is he descended from Kami, the ancient Japanese gods, but he is the heir to a tragedy that occurred long ago, a tragedy that is about to repeat.
Even as the blood of a vengeful god rages inside Tomo, Katie is determined to put his dark powers to sleep. In order to do so, she and Tomo must journey to find the three Imperial Treasures of Japan. Gifts from the goddess Amaterasu herself, these treasures could unlock all of the secrets about Tomo's volatile ancestry and quell the ink's lust for destruction. But in order to complete their quest, Tomo and Katie must confront out-of-control Kami and former friend Jun, who has begun his own quest of revenge against those he believes have wronged him. To save the world, and themselves, Katie and Tomo will be up against one of the darkest Kami creations they've ever encountered--and they may not make it out alive.
OVERALL IMPRESSION:
This was a great ending to a great series. It picked up where the second book in the series left off, rounded out the overall story line and wrapped everything up nicely. The writing in this book sucked me in. I could see everything in my mind as it was happening. The book has nice reminders of what happened in the previous books without having long drawn out summaries. It helped refresh me on what was going on since the last book.
There were far fewer drawings included in this book and I really missed seeing them, but it makes sense because the characters weren't really drawing anything until further in the book. I really enjoyed the drawings that were included.
I liked the ending of this book. I felt that it was the best possible way for things to go and I felt like it wrapped up the entire series enough to where I felt content.
CHARACTERS:
The characters are all great. We don't really learn a lot about the characters, but I feel like we already know a lot about them from the previous two books.
COVER:
This is my least favorite cover of all the books in the series. I loved the first two covers so much. I wish they would have made this one more similar to the first two covers.
**I received a copy of this book from Amazon Vine and the publisher for my honest review. My opinions are my own and have not been influenced in any way.**