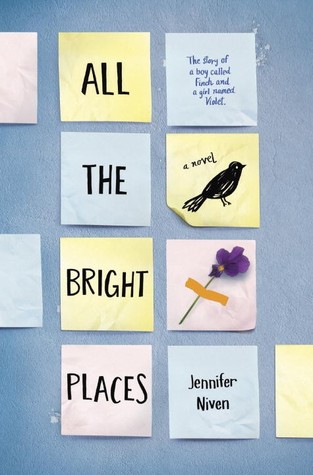 TITLE: All The Bright Places
AUTHOR: Jennifer Niven
PUBLISHER: Alfred A. Knopf Books For Young Readers
PUBLICATION DATE: 1/6/2015
FORMAT: ARC
PAGES: 400
SOURCE: Amazon Vine
MY RATING:
BACK COVER SUMMARY: Theodore Finch is fascinated by death. Every day he thinks of ways he might die, but every day is also searches--and manages to find--something to keep him here, and alive, and awake.
Violet Markey lives for the future, counting the days until graduation, when she can escape her small Indiana town and her aching grief in the wake of her sister's death.
When Finch and Violet meet on the ledge of the bell tower at school--six stories above the ground--it's unclear who saves whom. And when the unlikely pair teams up on a class project to discover the "natural wonders" of their state, they go, as Finch says, where the road takes them: the grand, the small, the bizarre, the beautiful, the ugly, the surprising--just like life.
Soon it's only with Violet that Finch can be himself--a bold, funny, live-out-loud guy, who's not such a freak after all. And it's only with Finch that Violet forgets to count away the days and starts living them. But as Violet's world grows, Finch's begins to shrink.
This is a heart-wrenching, unflinching story of love shared, life lived, and two teens who find one another while standing on the edge.
OVERALL IMPRESSION: This is a quick read, even though it's fairly large, so don't be intimidated by it's size. It has road trip elements, even though it's not really a "road trip book." All The Bright Places has plenty of feels, so if you're in the mood for something with lots of different emotions, the definitely check this one out. I would recommend it for older teens as it does have some pretty heavy topics in it, but it is very much worth reading.
CHARACTERS: I didn't feel as connected to the characters as I wanted to, but I think that was more about my mood when I was reading this book than the book itself.
COVER: I love it. The post-its tie into the story perfectly.
**I received an ARC of this book from Amazon Vine for my honest review.**